Degrees in Austria: Bachelor, Master and Co.
Which degrees can you acquire in Austria? Here you will find the answers and also valuable information about the Bologna Process.
Austria also has the so-called Bologna process and its degrees have been converted to the three-part structure "Bachelor - Master - Doctor / PhD" in order to adapt to the international university system. In addition, there are still diploma courses that do not end with a bachelor's or master's degree because they have not yet been converted.
The new Bachelor, Master and Doctor / PhD degrees always build on one another. Only those who have obtained a Bachelor can then begin with a Master. And the PhD, in turn, which leads to a doctorate, can only be completed with a corresponding qualifying master's degree.
The first academic degree one can achieve.
Bachelor degree
There is no getting around it in the humanities: the Bachelor of Arts (B.A.)
Bachelor of Arts
aYour degree in science or engineering
Bachelor of Science
Go one step further on top of the bachelor's degree: with an advanced master's degree.
Master's degree
The next step on the career ladder - the MBA course.
MBA degree
Still popular after the Bologna reform - the Magister.
Master's degree
For a long time one of the most popular courses and still popular today - the diploma.
Diploma studies
Briefly explained: The Bologna Process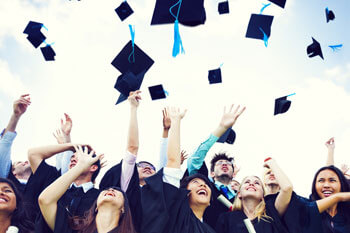 In 1999, 29 European education ministers in the Italian city of Bologna approved the creation of a unified higher education area. In the meantime, more than 45 countries as well as the EU Commission and eight other organizations in the higher education sector are involved in the implementation.
The Bologna Process or the Bologna Reform has three main goals:
1. Promotion of mobility: It should be easier for students to complete a course of studies in different countries and it should be easier for them to start, for example, a master's degree in Germany after completing a Bachelor's degree in Austria.
2. Promotion of international competitiveness: This includes a system of easily comparable and internationally recognized degrees (Bachelor and Master) as well as the introduction of a credit point system (ECTS).
3. Promotion of employability: Young people should no longer study for so long, but should be able to enter the labor market after three years with a bachelor's degree.