Canva - Hip Alternative to PowerPoint?
You have probably already seen one or the other snack content on our Facebook page. This always corresponds with our latest blog posts and - which is much more relevant for this topic - we design our snack using the free graphic design tool «Canva». To be honest: We fell in love with the Australian app. With drag & drop you can create cool posters, collages, presentations and other visuals in next to no time. Easy and intuitive. If you want to learn more about Canva, just read on.
Canva was born in Sydney, Australia and has been online since 2012. The graphic design platform already had around 750,000 users in the first year. Today there are well over 10 million. Trend: increasing rapidly! In 2019, around 1.2 billion designs were created with Canva. That is the equivalent of around 3,000 designs per minute.
It is logical that such figures are also reflected in the value of the company. In October, the company was valued at $ 3.2 billion, according to Wikipedia. Chapeau!
It is also interesting to know that Canva bought the two German companies "Pixabay" and "Pexels" in 2018. This means that the tens of millions of free stock photos from both platforms are available on Canva.
Canva earns money on the one hand through the paid versions of the app (Canva Pro & Canva for Enterprise). On the other hand, in the free version, some of the design elements such as images, backgrounds, templates, videos, etc. are chargeable.
As already mentioned in the introduction, we use Canva to design the snack content for our Facebook page. It looks like this, for example: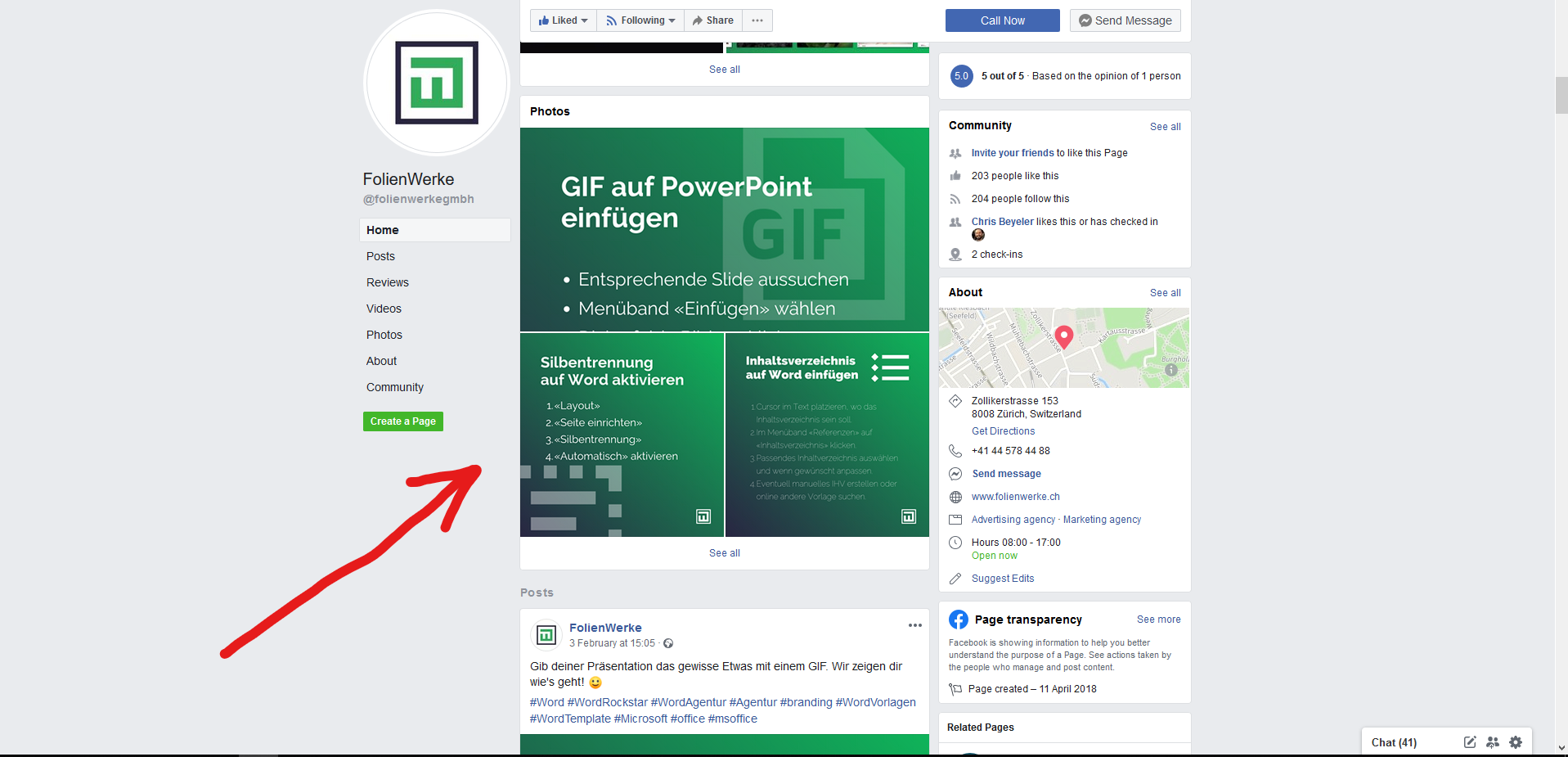 Logically, if you don't have one, creating a new Canva account is the first step.
The next step is to design your presentation. Countless options are already offered to you on the start page. The Canva library in the free version alone contains over 1 million images, photos, and assets.
Choose a presentation template.

In the pop-up window you can now see which style and image elements are included.
If you like, confirm by clicking on "Use this template" in the top right corner.
And now there are hardly any limits to your creativity. You can adapt the template exactly to your needs and ideas.
For example, if you want to use your own images, graphics and photos, you can simply drag and drop them from your hard drive to the «Uploads» group.

Now you can change the background, write new texts, change fonts and pictures, add music to individual slides, show videos for the best, etc.

Finally, you can view, share, share, and download your Canva presentation to others.
The Basic version the graphic design platform is free. But that doesn't mean that you can't do anything with it. But on the contrary! Here are the features of the free version (information taken directly from the Canva website):
Two folders in which you can save your designs
1 GB of storage space for photos and other materials
Access to more than 8,000 templates
You can upload your own pictures
Access millions of photos for as little as $ 1 each
With "Canva Pro»For 11.99 euros per month (and per team member!) You can secure a whole host of additional features and benefits. This investment makes sense, especially if you want to work on a presentation with several people. In addition to the features of the free version, you have the following additional services:
Unlimited number of folders for your designs
Team function
100 GB of storage for photos and other materials
Exclusive access to 4 million free photos, illustrations and icons
Change the size of your design with one click
Upload your own fonts for your brand
Set up color palettes for your brand
Save templates for you and your team
Organize your photos and designs in different folders
Search function to easily find your designs
Individual adaptation of the design size
Design download with transparent background
Design exports as animated GIFs
Preferred support
«Canva for Enterprise»Is suitable for companies that regularly have to create presentations and other visuals. This is 27 euros per month and user. However, this version can only be purchased if you have at least five team members using the program. In addition to the benefits of Canva Pro, you get:
Unlimited space for photos and materials
Brand consistency thanks to control of colors, fonts, assets and logos
Review, approve, and comment on designs
Several trademark documents
Lock elements for a unified look of your brand
Team area with customizable header
Single sign-on support
SLA with an availability of 99.5%
Enterprise support
In my opinion, Canva is no alternative to PowerPoint if you want to create professional, large and technically demanding presentations. The program simply lacks possibilities. But Canva does not (yet) have this claim either. The graphic design app is great if you want to create really nice visuals in a short amount of time.
Do you use Canva? Or did you find out about the app for the first time here? I'm looking forward to your input on the topic!