What would Bach think of Philip Glass?
Composition in a dream: Philip Glass is 80
His father owned a record store and his mother was a librarian. In the evenings the father listened to unsold records from his shop, the son listened in: Mozart, Schönberg, Schubert, Charles Ives.
Philip Morris Glass was born in Baltimore on January 31, 1937, into a family of Jewish immigrants from Lithuania. He played the violin at an early age, then the flute, and later the piano. At the age of eight he became a student at the Peabody Conservatory in Baltimore, and when he was ten he played in local orchestras. He studied mathematics and philosophy at the University of Chicago, and later piano at the Juilliard School in New York.
On a Fulbright scholarship, he went to Paris in 1964 to study with Nadia Boulanger. A tough school, said Glass later, because Boulanger taught Mozart and Bach with a crowbar. In 1965 he met another formative influence, the sitar player and composer Ravi Shankar. Through him, Glass got to know the understanding of time and rhythm in Asian music. He traveled to India, took tabla lessons, became a Buddhist and later campaigned for the Tibetan independence movement.
Plumber and taxi driver
In 1967 Glass returned to the USA and heard a concert with a performance of "Piano Phase", a pioneering work in the genre of minimal music by the composer Steve Reich, which impressed him very much. With Reich and other ex-students, Glass soon formed an ensemble that performed their music in art galleries in New York's bohemian Soho district.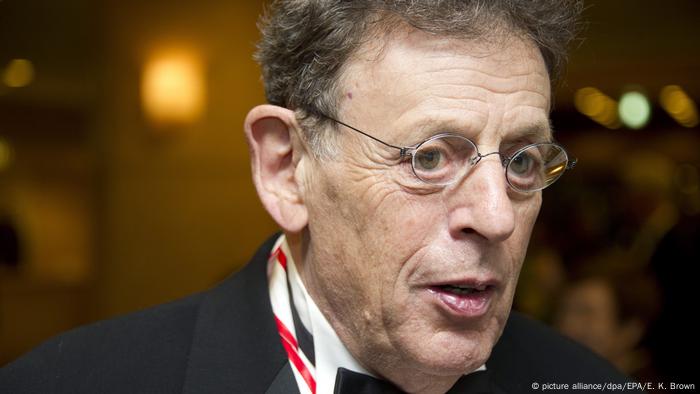 Philip Glass after being awarded the Praemium Imperiale 2012
After a dispute with Reich, he founded the Philip Glass Ensemble in 1970, with which the composer still performs on the keyboard today. To keep himself afloat financially, Glass also set up a moving company, worked as a plumber and drove taxis. He was his own concert promoter and publisher. He did not hand in his taxi license until he was 42, and from then on he was able to make a living from his composition work.
The international breakthrough came in 1976 with "Einstein on the Beach", which was created in collaboration with the playwright Robert Wilson and the choreographer Lucinda Childs. Without a plot, five hours and without a break: this opera was a revolutionary new development. 25 operas followed, plus "Satyagraha", "Akhnaten" and "The Voyage" - works that are now part of the repertoire of opera houses around the world.
Heavenly length, eternal repetitions
With its conventional harmonies, minimal music - whose main protagonists were Philip Glass, Steve Reich, John Adams and Terry Riley - was the most radical possible departure from the atonal or twelve-tone music that was predominant at the time. Glass and his colleagues did not reject them: "How could you reject Berio?" Said Glass. "Stockhausen's early works are also unbelievably beautiful. But we thought: What they can do we can't do better. So let's start somewhere else."
Today Glass calls his approach "music with repetitive structures". It was precisely this characteristic that earned him ridicule: Glass was the "master of the broken record player needle," it was said. His music paralyzes the mind with its incessant repetition.
"Some musicians disregard Philip Glass's music. They call it too simple and simple-minded," said David Harrington, violinist with the Kronos Quartet. "I can only tell them: you should try to play them. What is required for Philips music is the greatest imaginable clarity in interpretation, sound, intonation and rhythm."
Glass: "The opponents just died out and we keep playing."
Have the once strongly antagonistic camps of atonal composers and minimalists now reconciled? "No," said Glass in a recent interview with the London Guardian: "The opponents have simply died out and we continue to play."
What Philip Glass' music shows, however, is not just the processing of the musical material, but above all the melodic substance itself with its charming, deeply melancholy or ecstatic tone gradients. Unsurprisingly, Glass names Franz Schubert as his favorite composer and Anton Bruckner's music as another major influence.
Glass has also worked with artists from a wide variety of disciplines: with the musicians Paul Simon and Leonard Cohen, with the singer-songwriter Patti Smith, the choreographer Twyla Tharp and the British Nobel Prize winner Doris Lessing - but also with the filmmaker Godfrey Reggio, with whom he had one in 1982 of the most successful art films of all time: "Koyaanisqatsi". He also wrote the music for films by Woody Allen and Martin Scorsese and was nominated for three Academy Awards.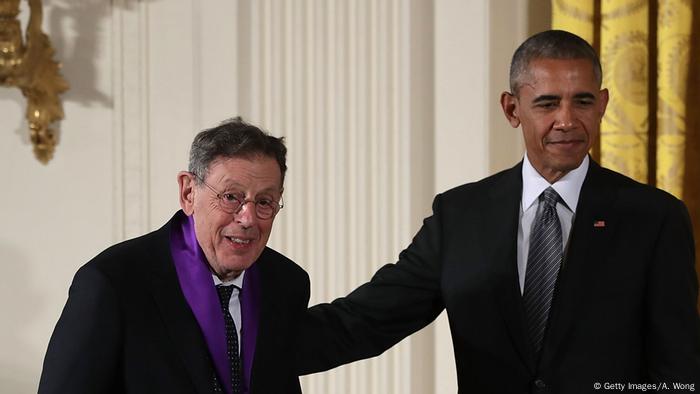 "Philips work bridges genres and cultures," said Barack Obama in 2015
Liberating symphonies
Glass also wrote chamber music, piano works - and only at the age of 50 did his first orchestral work, a violin concerto. This was followed by 13 solo concerts and orchestral works in every genre - and ten symphonies. "Forced to do this," says Glass, would have been his long-time friend, sponsor and conductor Dennis Russel Davies, who once said to him: "I will not allow you to become one of those composers who never write a symphony." Glass mentions Mahler, Beethoven and Shostakovich as influences in his symphonic works. In an interview with his record producer Richard Guérin, he recently said: "People claim that I write music that sounds like no other. I say: No, I write music that sounds like any other."
Philip Glass' 11th Symphony premieres on January 31, the evening of his 80th birthday, at Carnegie Hall, New York. The "National Medal of Arts" is one of his many honors and awards. At the award ceremony in September 2016, US President Barack Obama said: "Change is not easy. However, in the course of his career as a composer of symphonies, operas and film music, Philip Glass has proven that change can be beautiful."
In 2002 he founded Orange Mountain Music. 60 LPs with music by Philip Glass have now been released on the label. He has remained the rights holder and owner of his music - except for a few film compositions - and has long been a skeptic of music streaming services. His catalog of works has recently been available on Apple Music.
Dream compositions
Philip Glass told the weekly newspaper "Die Zeit" in 2006 that his ideas came in a dream. In the morning he would have to try to hold on to her. After that, he works up to twelve hours a day. Regarding his astonishing productivity, he says: "Maybe I'm doing too much", but I'm like the child at the children's birthday party who always wants to eat the whole cake by himself. "
Philip Glass is currently working on another film score and is planning his 12th symphony. His advice to young composers? They shouldn't sell the rights to their music and play it themselves if possible. Because: "If we leave this decision as to whether our music is played to others, then nobody will hear it." And getting a taxi license wouldn't be a bad idea either.