What is more physically or mentally calming
The focus of the offer is on the individual participant, whom I always treat with respect and consideration for their respective moods and talents. Depending on the mood, the music itself can sometimes be challenging, impulsive, sometimes calming, or simply cheerful.
The offer is aimed at people of all ages with mental, physical and emotional disabilities and can conceptually be carried out individually in two ways.
Group offer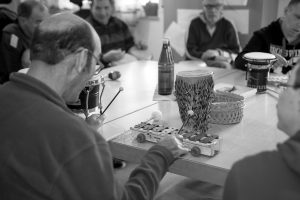 Here I come into contact with the individual participants in the group and, depending on their acceptance, actively involve them in the musical process. Songs are either sung or various instruments are played. Participants can participate passively or actively in the music process, for example listening, dancing, clapping, singing or playing an instrument.
Single offer
Here a participant (or a small group) is supported directly in their musical expression. Specific songs are sung, mostly with seasonal references (St. Martin, Christmas, etc.) or played together on a wide variety of instruments. Furthermore, depending on the degree of disability, passive music therapy concepts can be used in which the client is played in order to achieve relaxation or stimulation (or both), depending on the situation.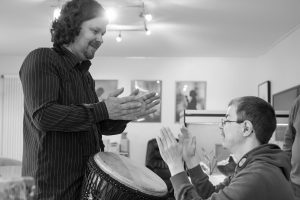 An essential part of both offers is free musical improvisation. When a participant has decided on an instrument, I pick up their musical impulses and integrate them into playing together.
This is done with the aim of recognizing and promoting the participant's musical, motor and mental abilities. In this context, I understand music both as a direct, non-verbal expression of emotions, but also as a common non-verbal communication.
In addition to ideophonic percussion instruments, my instruments also include various drums, singing bowls, cymbals, guitar and voice. In particular, I would like to mention the didgeridoo, which is an impressive instrument, especially in terms of (passive) reception.