How can I make my NGO popular?
Award for NGO from Cambodia
Can one do meaningful work in a de facto one-party state to strengthen social participation, citizen participation and personal rights vis-à-vis the state? Yes, you can, even if it is not always easy, say Socheat Lam from the Cambodian NGO "Advocacy and Policy Institute" (API) and Jan Noorlander, program director of the international NGO CARE in Cambodia. The Cambodian Socheat Lam came to Bonn on Tuesday to receive the partnership award from CARE Germany, endowed with 10,000 euros, on behalf of his organization in the historic town hall.
The NGO API was recognized for its success in strengthening civil rights at the local level. One focus is on educating people about the rights that citizens have with regard to state services (article picture), as Socheat Lam explained to DW: "In recent years, people have paid more or less arbitrary, regionally different fees for government services , for which they actually didn't have to pay at all or less. Now we at API have worked with the local authorities and the government to ensure that people no longer have to sell their pigs and chickens to buy the money for a wedding or To get birth certificate together. "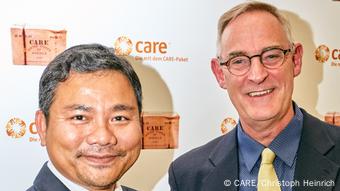 Socheat Lam, API director from Cambodia, and Jan Noorlander, program director of CARE Cambodia, at the award ceremony for API in Bonn
Right to State Services
In other words: Fighting poverty by educating people about legal entitlements and demanding them: "Social accountability" is what development organizations say in the jargon. The effect might not seem so huge in scale, but it means a lot for people on an income of a few dollars a day, says Socheat Lam.
His colleague Jan Noorlander, program director of CARE Cambodia, explains in more detail what is hidden behind the generic term "social accountability" and how attitudes of the population have changed Doctors need to be available 24/7 if a child is about to give birth and that they complain, 'The health post is always vacant, what's going on here?' Or: 'At my children's school, the teachers are not seen half of the time'. "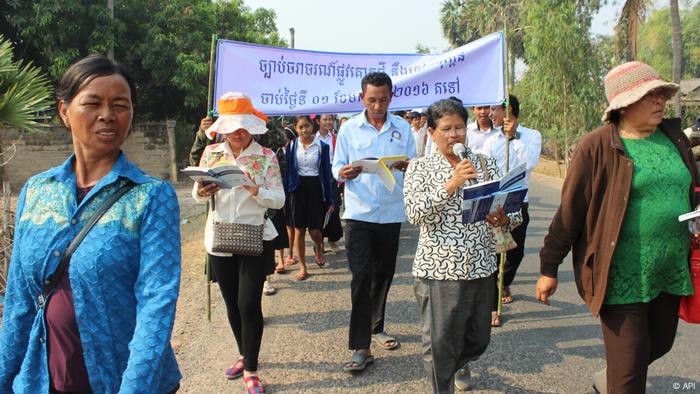 Demonstration for the better implementation of the new law on road safety - politically (still) allowed.
Space for work by NGOs is becoming narrower
CARE and the partner organization API emphasize that they are pursuing goals in these areas that are in principle also being pursued by the government in Phnom Penh. However, despite the decentralization advocated by the government, the space for mobilizing citizenship and participation in local politics is decreasing. In the elections last July, Prime Minister Hun Sen, who has been in office since 1985, further consolidated his position of power by eliminating the opposition in parliament and largely in public. The desire for control has grown stronger and stronger, says Noorlander, so that one does not want to hear the voices of dissatisfied citizens too often and too loudly.
The new law on NGOs in Cambodia passed a few years ago is not unusual in itself, and such organizations also have to comply with regulations in the West, says Noorlander. "But the implementation has become very strict and complex, the bureaucratic hurdles are very high." Every report from CARE on a completed project with API goes through the desk of a government agency before it is published.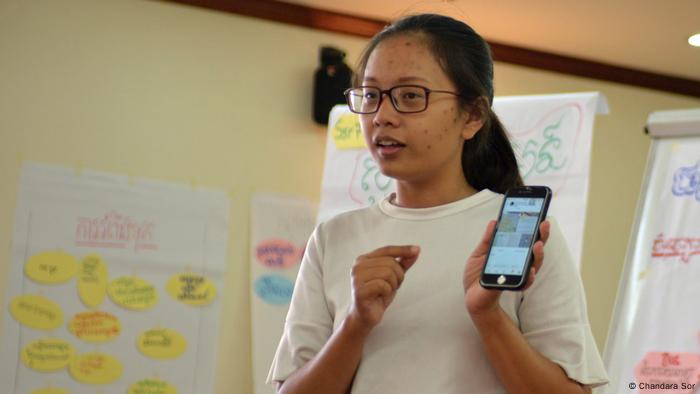 Cambodia's youth are out and about on social networks. How can she distinguish fake news from real news? Development work in this case by DW Akademie
Thick topic of democracy
"We face many challenges in promoting democratic debates and processes at the local level," admits Socheat Lam. Try to raise awareness in this area too, knowing full well that this is a sensitive issue in Cambodia. But through the cooperation with CARE in the area of ​​'social accountability', his organization is in good contact with the government. In this way, politically less sensitive topics could also be "supplemented" by more sensitive topics, reports API director Lam.
In October, the EU Commission threatened to withdraw the preferential treatment granted to Cambodia (exemption from customs duties for all goods except weapons, Everything but Arms, EBA) if things did not improve in terms of democracy and human rights.
Strong textile workers

Kat Mea (30) from Cambodia

Kat keeps buttons on pants all day. "If I could meet the owner of a German clothing brand, I would tell him that he has to pay the factory owner an honest price. Then he can reward us fairly."

Strong textile workers

Daliya Shikdur (20) from Bangladesh

Daliya sews the inside seams of around 130 jeans an hour. If she works a lot of overtime, she gets a bonus - in theory. When he was again not paid, she founded her own union. "We want an annual wage increase, free on Sundays, a limit on the number of overtime hours and childcare."

Strong textile workers

Chung Srey Sros (37) from Cambodia

Six days a week, about ten hours a day, Chung sews countless cuffs on trousers. "My work - I find it terrible! But it brings food and that's why I have to do it." After the photo shoot, she says: "Soon people will be looking at my face - exciting. Even if I can't be there myself, I'm somehow present at the exhibition."

Strong textile workers

Mim Salma Akter (23) from Bangladesh

"If I could choose, I would like to help other people, for example as a doctor," says Salma. "I'd rather do something else. Something where I can see daylight." She sews zippers into clothes. "When the pressure is high and a delivery has to be made, I sometimes work ten or eleven hours a day."

Strong textile workers

Kun Hon (23) from Cambodia

"I get angry when I think of the owners of the companies I make clothes for. They sit in their office and count the money. But we have to work hard for a starvation wage. I would like to organize myself so that we can all be in get a fair wage at the factory. But I don't dare to become a union member. "

Strong textile workers

Shahnaz Akter (23) from Bangladesh

Shahnaz works in a clothing factory six days a week from eight in the morning to nine in the evening. She sews a hundred collars to shirts every hour. "I think it's good to work. I take care of myself and I can do everything. But I think it's bad that I'm being told when and how long I can go to the toilet. You run to the toilet and look at it." Clock."

Strong textile workers

Thy Phalla (25) from Cambodia

"I have to borrow money again and again. And I often have to decide: do I buy something to eat or do I send the money to my family?" Thy likes to be photographed and reports confidently: "Before you put on your clothes, you have to look at the label first: If it says 'Made in Cambodia', think about how hard we worked for this item of clothing."

Strong textile workers

Tania Akter (23) from Bangladesh

"I do everything that has to do with jackets," says Tania. "I sew buttons and zippers into clothes with a machine." Tania is a trade unionist and contact person for 850 union members. "The more people know how things are here, the more people can support us. And we need that. Together we are taken seriously!"

Strong textile workers

Nurun Nahar (40) from Bangladesh

"I started out as an assistant in a factory that made clothes for Europeans. It was the lowest job with the lowest salary! Today I work on the sewing machine." Nurun is active in one of the largest trade unions in Bangladesh. "Even if not all women dare to take action against the factory management - I would at least sow seeds in their heads."

Author: Hans Spross
EU action would hit the poor first
On the one hand, Cambodia expert Noorlander welcomes the fact that "the EU has taken a clear position on the unacceptable events leading up to the July elections." On the other hand, the EU had also been advised that the termination of the trade preference for Cambodia would primarily affect the 800,000 employees in the clothing industry, 80 percent of whom are very young women. These women transfer most of their wages to their families in poor rural areas. "If they lose their jobs, their families do not expect them to return there. They will find new jobs and not infrequently end up in prostitution."
Noorlander's colleague Socheat Lam also hopes that the EU will fail to carry out its threat, because the measure would first and foremost affect the poor.
As far as further development in Cambodia is concerned, both development experts rely on the country's youth. They did not live to see the extermination regime of the Khmer Rouge and the civil war that followed until 1998, nor did they internalize the strategy of "surviving through silence and not attracting attention". She has completely different options for exchanging information on social media and will not simply swallow paternalism and suppression of democratic rights in the long run.